Notes on the Lennon/McCartney Lyrics
I have collected and indexed these lyrics because I love them. Beatles songs have been part of my life at least since my aunt and uncle gave me the Ticket To Ride single for my 10 years' birthday.
As I worked with this material I was surprised to find that many of the classic songs were not published on LPs, only as single records, for example I Want To Hold Your Hand, She Loves You, I Feel Fine, Day Tripper, We Can Work It Out, Paperback Writer, and Rain.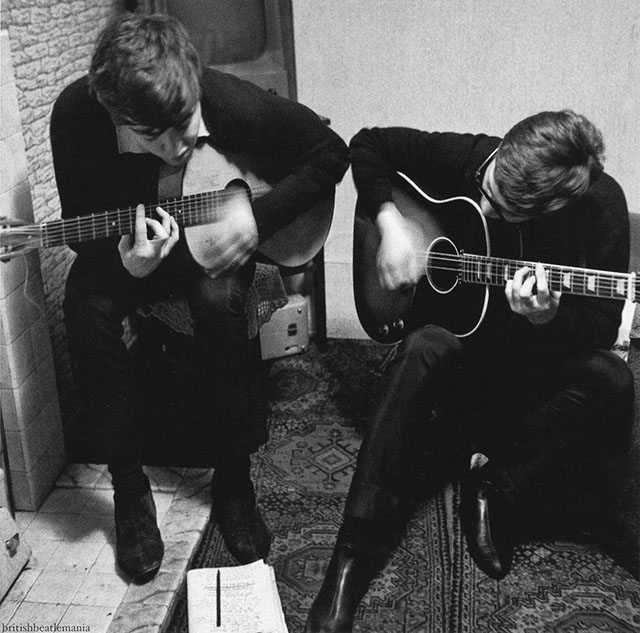 Paul McCartney and John Lennon composing "I Saw Her Standing There" in Paul's living-room in Forthlin Road, Liverpool, November 1962. They only noted the text, never the chords. Photo by Mike McCartney.
You can hear which of the two is the primary composer of a song by listening to the records. The primary composer is usually also the lead singer.
Sources
The selection of songs and when they were published is collected at www.aboutthebeatles.com/discography.php.
Most of the texts are collected at www.stevesbeatles.com/songs/. No typos, kudos!
The "50 Great Songs" canon stems from Chris Ingham: "The rough guide to The Beatles", Rough Guides, London, 2006
Statistics
The 161 songs contain 27,271 words.
After conversion in WordToWeb and sorting with Regular Expressions, there remained:
2,597 unique verse lines and
1,871 unique words. The words have
4,646 links to the various songs
I omitted links to the 100 most frequent words, which were: you, I, the, to, me, a, and, in, love, Be, My, know, it, that, All, I'm, is, She, of, your, on, It's, Don't, So, her, can, for, Do, when, yeah, Oh, With, But, I'll, what, Say, get, girl, want, see, got, if, will, back, Let, come, down, no, like, Time, you're, she's, was, I've, man, We, right, can't, why, now, Ah, tell, up, good, need, never, home, Just, baby, One, Go, He, there, make, said, better, day, Have, out, well, way, little, take, gonna, How, Yes, going, na, at, his, long, not, Think, Only, mind, night, They, are, been, Where.
Omitted Songs
I have chosen only to work with the 161 songs published by John Lennon and Paul McCartney 1962-1970, not with the other songs performed by The Beatles:
George Harrison

Don't Bother Me released on With The Beatles 1963
I Need You released on Help! 1965
You Like Me Too Much released on Help! 1965
If I Needed Someone released on Rubber Soul 1965
Think For Yourself released on Rubber Soul 1965
I Want To Tell You released on Revolver 1966
Love You To released on Revolver 1966
Taxman released on Revolver 1966
Blue Jay Way released on Magical Mystery Tour 1967
Within You, Without You released on Sgt. Pepper's Lonely Hearts Club Band 1967
Long, Long, Long released on The Beatles (The White Album) 1968
Piggies released on The Beatles (The White Album) 1968
Savoy Truffle released on The Beatles (The White Album) 1968
While My Guitar Gently Weeps released on The Beatles (The White Album) 1968
The Inner Light released on UK Single 1968
Here Comes The Sun released on Abbey Road 1969
Something released on Abbey Road 1969
Old Brown Shoe released on UK Single 1969
It's All Too Much released on Yellow Submarine 1969
Only A Northern Song released on Yellow Submarine 1969
For You Blue released on Let It Be 1970
I Me Mine released on Let It Be 1970
Ringo Starr

Don't Pass Me By released on The Beatles (The White Album) 1968
Octopus's Garden released on Abbey Road 1969
Oddities

Komm Gib Mir Deine Hand Lennon/McCartney/Nicholas/Heller, released on German Single 1964
Sie Liebt Dich Lennon/McCartney/Nicholas/Montague, released on German Single 1964
Flying (instrumental) Lennon/McCartney/Harrison/Starkey, released on Magical Mystery Tour 1967
Christmas Time Is Here Again Lennon/McCartney/Harrison/Starkey, released on UK Single 1995
Free As A Bird Lennon, released on UK Single 1995
Other Authors

Anna (Go To Him) Alexander, released on Please Please Me 1963
Roll Over Beethoven Berry, released on With The Beatles 1963
Rock And Roll Music Berry, released on Beatles For Sale 1964
Money Berry/Gordy/Bradford, released on With The Beatles 1963
Baby It's You David/Williams/Bacharach, released on Please Please Me 1963
Boys Dixon/Farrell, released on Please Please Me 1963
Devil In Her Heart Drapkin, released on With The Beatles 1963
Chains Goffin/King, released on Please Please Me 1963
Please Mr. Postman Holland, released on With The Beatles 1963
Words Of Love Holly, released on Beatles For Sale 1964
Mr. Moonlight Johnson, released on Beatles For Sale 1964
Long Tall Sally Johnson/Penniman/Blackwell, released on Long Tall Sally, EP 1964
Kansas City/Hey Hey Hey Hey Lieber/Stoller/Penniman, released on Beatles For Sale 1964
Twist And Shout Medley/Russell, released on Please Please Me 1963
Act Naturally Morrison/Russell, released on Help! 1965
Everybody's Trying To Be My Baby Perkins, released on Beatles For Sale 1964
Honey Don't Perkins, released on Beatles For Sale 1964
Matchbox Perkins, released on Long Tall Sally, EP 1964
You Really Got A Hold On Me W. Robinson, released on With The Beatles 1963
A Taste Of Honey Scott/Marlow, released on Please Please Me 1963
Slow Down Williams, released on Long Tall Sally, EP 1964
Dizzy Miss Lizzy Williams, released on Help! 1965
Bad Boy Williams, released on A Collection of Beatles Oldies 1966
Not A Second Time Wilson, released on With The Beatles 1963
Till There Was You Wilson, released on With The Beatles 1963